Blue Crabs Roster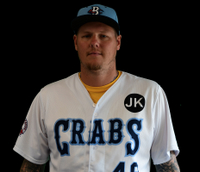 Mat Latos
#41
Position:
P
Date of Birth:
12/09/1987
Height:
6' 6"
Weight:
245 lbs
Bats:
R
Throws:
R
Resides:
Hudson, FL
Biography:
2019 Season:
• 2019 Atlantic League All-Star
• Made his season debut on April 26th against the Sugar Land Skeeters
• Strung together nine straight perfect innings, put together 14 straight hitless innings, and had a streak of 20 straight scoreless innings
2018 Highlights:
• Spent his first non-affiliated season of his career with the New Jersey Jackals of the Canadian American Association
• Just short of statically qualifying, but would've ranked sixth in the Can-Am Association in ERA, tied for second in wins, and first in strikeouts, for good measure he went 3 for 6 at the plate on the season
Previous Career:
• Drafted by the San Diego Padres in the 11th round of the 2006 MLB June Amateur Draft from Coconut Creek HS (Coconut Creek, FL)
• Made major league debut on July 19, 2009, at the ripe age of 21 with the Padres.
• Best appearance of 2009 – 8/25: Pitched seven innings allowing two hits and no runs and no walks
• In 2010, Latos finished eighth in Cy Young voting with a 14-10 record and a 2.92 ERA • In July of 2010, Latos posted a 1.03 ERA in 26 innings.
• On September 26 2011, Latos pitched had his lone scoreless outing of the season, pitching seven innings while allowing just hits and one walk.
• Headliner in a blockbuster trade in 2011, Latos was traded to the Cincinnati Reds for Yonder Alonso, Yasmani Grandal, and Edinson Volquez
• Put up dazzling numbers in his first season for the Reds (2012), going 14-4 with a 3.48 ERA while leading the MLB in games started, 33
• Posted a 2.43 ERA in his last 19 starts of 2012 with the Reds
• Latos posted the second-best ERA of his MLB career in 2013 at 3.16.
• In 2014, Latos posted another strong season. In his first start, he threw six scoreless innings, allowing only two baserunners to reach.
• Latos got off to a terrific start in 2016, posting a 0.74 ERA in his first four starts.
• From 2010-2014, Latos posted an ERA under 3.50 and WHIP under 1.25 in each season.
• Played 9 seasons in the MLB between the Padres, Reds, Miami Marlins, Los Angeles Angels, Chicago White Sox, Washington Nationals, and Toronto Blue Jays
• Posted a phenomenal 71-59 record and 3.64 ERA in his MLB career
Personal:
• Born less than hour from Regency Furniture Stadium in Alexandria, Virginia