Andrew Snyder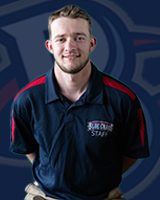 Sales Account Executive
Phone:
301-638-9788 X216
E-mail:
Andrew joins the Blue Crabs Organization this season as an Account Executive.
Andrew was born in Plano, Texas and grew up in West Chester, Pennsylvania, a suburb of Philadelphia. A Philly sports diehard and a ballplayer growing up, Andrew knew he wanted to stay in the game of Baseball as long as he could.
A class of 2021 graduate of Susquehanna University in Selinsgrove, PA, Andrew received a degree in communications, while participating as a member of Susquehanna University Men's Rugby Club. Andrew participated as a sports writer for the university newspaper, a member of the WQSU sports talk station while working in the athletic communications department at Susquehanna.
Prior to coming to the Blue Crabs, Andrew Interned with Perfect Game USA in the summer of 2019. This past spring, Andrew spent time as an intern with the Altoona Curve, the Double-A affiliate of the Pittsburgh Pirates.
When he's not working with the Blue Crabs, Andrew enjoys spending time outdoors, in the gym, and working on his newfound golf addiction. When at home, Andrew likes to hang out with his three younger brothers and his pit bull, Terri.
Front Office
Part Time Staff
Medical
Athletic Training Staff